News & Testimonials
Speakers Bureau expands
RAMSP has grown its Speakers Bureau for K-12 classes, in part by
adding several experts from the University of Minnesota Rochester.
The listings identify 60 STEM topics and provide contact info for
27 individuals plus two businesses offering numerous speakers.
To join yourself, or to check out the topics and experts, click the big
"Sign Up to Speak or Volunteer" button toward the upper right.
sample Speakers Bureau testimonial
"I invited Randall Doyal to speak to my Environmental Science class
about alternative energy, and he did an EXCELLENT job."
-- Thomas A. Dean Jr., Biology and Chemistry Instructor, Kasson-Mantorville High School
Wanted: Coding, Marketing, and Business Mentors!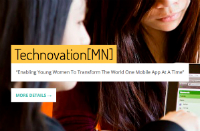 RAMSP and a local medical software company, Preventice, helped a competitive program for middle and high school girls called Technovation[MN] launch in the Rochester area in early 2015. Students develop and market apps intended to address societal needs. One of our three "pilot" teams in 2015 advanced all the way to the global finals, and in 2016 we grew to 15 teams across RAMSP districts! Our teams captured five of the seven qualifying spots at the statewide competition in May. The teams are most active from January to April, meeting with mentors for at least two hours weekly. Ideally, teams of five girls will have adult mentors with experience in three different fields: coding, marketing, and business generally. If you're open to becoming one of these mentors, please contact us!