News & Testimonials
RAMSP Testimonials
Here's what some attendees had to say about our April 2014 Professional Development Forum:
"Thoroughly enjoyed Jerry Williams' presentation!!!"
"Great - all the right info – excellent how-to on the flipped classroom. THANKS!"
"Lots of good info. Will be reflecting on this for quite awhile. Definitely made me think of how I can improve what I am doing."
Wanted: Coding, Marketing, and Business Mentors!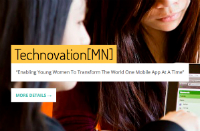 RAMSP is helping a competitive program for high school girls called Technovation[MN]. launch in the Rochester area during 2014-15. The program's motto is "Enabling young women to transform the world one mobile app at a time." Participants develop and market apps intended to address societal needs. The girls are most active during twelve weeks from February to April, meeting with mentors for an average of four hours per week. Ideally, teams of five girls will have adult mentors who have experience in three different fields: coding, marketing, and business generally. If you're open to becoming one of these mentors or would like to help recruit team members, please contact us!